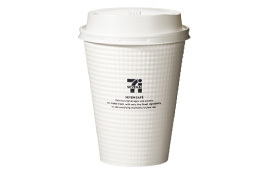 Sales of freshly brewed coffee at major convenience stores are increasing in Japan. Japanese coffee drinkers are flocking to convenience stores to get reasonable coffee priced around ¥100-¥200 per cup. The estimated total sales volume of 2013 of five major convenience stores is said to exceed 700 million cups.
Seven-Eleven Japan Co. introduced automatic coffee dispensers at its convenience stores across Japan, it sold almost half a billion cups of coffee. Customers pay at the register, where they are handed cups in one of two sizes, priced at &yen100 or &yen150 for hot coffee, and then serve themselves.
Lawson Inc. introduced brewed coffee three years ago, with store employees making the coffee behind the counter and handing it to customers themselves. The chain stocks 10 different coffees. The company plan to offer more sandwiches and sweets that go well with coffee and to increase the number of stores that serve coffee.
FamilyMart Co. offers a blend coffee for ¥120 or ¥150 and uses an espresso coffee machine made in Germany. The company purchases quality coffee beans from contractor farms in Brazil.
Convenience store coffee topped the Nikkei Trendy's annual ranking of popular products of 2013, the ranking is based on sales, novelty, and power of influence.
Japanese consumers have a tradition of buying canned coffee from vending machines or convenience stores, however, as foreign cafes began being adopted by Japanese society, many people stopped buying canned coffee and started getting fresh coffee at same foreign coffee chains.
In order for convenience stores to have those customers back, they started installing self-service coffee machines and selling coffee for a very cheap price around ¥100-¥200. Major coffee chains such as Starbucks Corp. sell coffee priced around ¥400 in a country where that is sometimes enough to buy lunch. Those machines also enabled people living in remote areas to buy fresh coffee with a taste similar to that of coffee chains at convenience stores near by.
According to All Japan Coffee Association, the domestic consumption volume from January to September was a year-on-year increase of 4% to 334,500 tons. Japan was the world's fourth-largest consumer of coffee in 2012, although its annual per-capita coffee consumption that year, 3.36 kilograms, was less than that of the United States and all European countries outside of the United Kingdom. As the number of businesses selling coffee increases, the market may see further expansion.
(May, 2014)