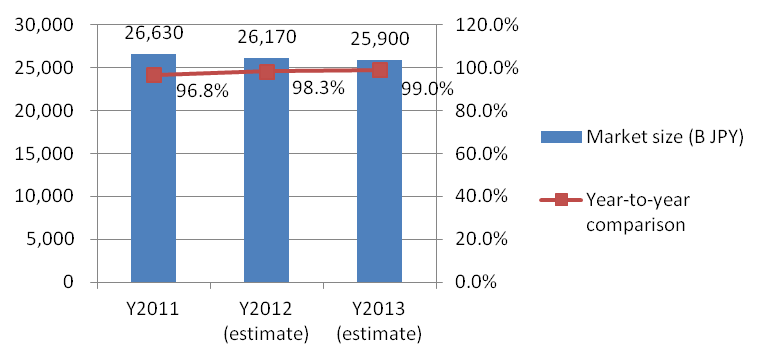 Research about Japanese bridal market by Yano Research Institution (YRI), a Japanese research institution, revealed the bridal market size in 2011 was 2,663B JPY, shrank by 3.2% on a year-on-year basis, the consecutive three years decrease.
The bridal market includes bridal parties, bridal furniture, bridal travels, bridal jewelries, engagement parties/items, and bridal information services according to YRI. The research revealed that shrink of the bridal party market, the largest market among the bridal market, made a major impact on the bridal market reduction. The bridal party market in 2011 was 1,450B JPY, decreasing by 4.4% on a year-on-year basis.
The institution said that couples who married without bridal parties are increasing while the number of bridal facilities was rowing in the report. It also said competition among those facilities was getting intense.
YRI estimates that Japanese bridal market will continue to decrease and market size will become 2,617B JPY in 2012 and 2,590B JPY in 2013. The institution said the number of marriage kept the same level but, unit price of bridal party would continue to decrease.
(Business Media Makoto, January 2013)